Homepage > About Us
BY MUSICIANS FOR MUSICIANS: The trade magazine GITARRE & BASS has been creating the balancing act between technology, music, theory and practice for three decades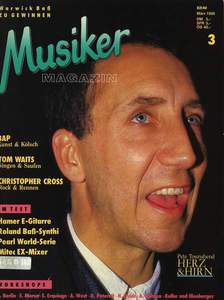 To recognize developments early, to pick them up and to use them, or even to establish new movements yourself and turn them into trends, you need expertise, groundedness and an emotional connection to the subject matter. Apart from editor Dieter Roesberg, G&B editors Florian Stolpe, Guido Lehmann, Stefan Braunschmidt and Lothar Trampert are not only recognized specialist authors but also musicians and / or hunter & gatherers who have been active in the live and vintage scene for many years and sometimes like to screw on their own instrument or discover a new effects device designer on the web. The common goal is to pass on this enthusiasm for the topic in order to provide technical and musical know-how to young and experienced guitarists and bassists, thus providing impulses for their own music. The openness to different musical styles and gear philosophies has always distinguished Gitarre & Bass clearly from the competitors in the field of music magazines.
Gitarre & Bass has accompanied a number of brand and musicians, some of them from their earliest beginnings to worldwide relevance: guitarists Joe Bonamassa, John Scofield, Steve Vai, Jeff Beck, Joe Satriani and Steve Lukather, bands like Toto Smashing Pumpkins, Motörhead or Scorpions, the German soloists Marcus Deml, Michael Sagmeister and Hellmut Hattler, then today with market-leading PRS guitars, mesa / boogie amps, Warwick basses etc. The Line6 Modeler Pod introduced a new technology , which is still evolving in devices from Fractal Audio and Kemper. The presentation of European and German manufacturers, of which Nik Huber, Jens Ritter, Hughes & Kettner, Diezel Amps u.v.m. have also made a name for themselves internationally.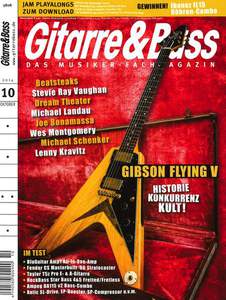 Increased activities in the area of social media have also increased the reach of the brand Gitarre & Bass in the digital world in recent years. Competent blog posts, regular newsletters, and collaborations with events such as the Guitar Summit, the Holy Grail Guitar Show or Tour Presentations by UFO, Toto, Hellmut Hattler, Bernard Allison, Wishbone Ash, Danny Bryant, The Brew, Jackson Browne, Joe Bonamassa, Lynyrd Skynyrd and much more. In addition, they generate presence and new contacts far beyond the print sector.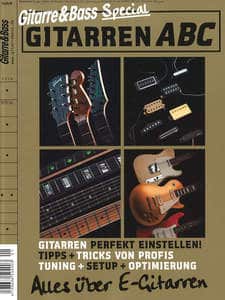 But there has also been a lot done: In recent years, in addition to the monthly publications of the magazine, a number of SPECIALS have been released, such as a Fender Special, a Gibson Special, the Electric Guitar Special, an Ibanez Special and last the Gitarre & Bass guitar ABC for beginners & advanced, with a lot of information, tips & tricks around the instrument of our choice.
By the way, the editorial staff of Gitarre & Bass evaluates an average of 3000 emails and letters per month, so that a constant, direct contact and reference to the wishes of the readers is guaranteed. Because the maxim has not changed: It continues to provide a competent, entertaining and inspiring magazine for the great guitarist & bassist scene. BY MUSICIANS FOR MUSICIANS.
Reach per month (10/2018)
35,125 printed copies
8,059 print subscribers
360,062 page impression 
35,463 newsletter subscriber
Appeal to your customers with a 360° strategy!
We prioritize advertising with long-lasting effects. And these can only be achieved via a holistic approach on all terminal devices. Studies show that cross-media campaigns boost the willingness to purchase by 32% and heighten interest in a product by 43%.
Reach out to our readers in a variety of ways through a monthly print magazine, a daily updated website, daily and weekly newsletters, and six social media channels as well as theme-specific store products.